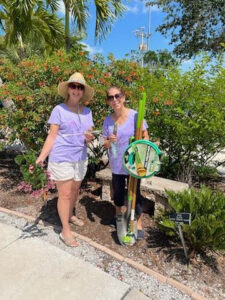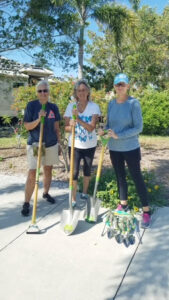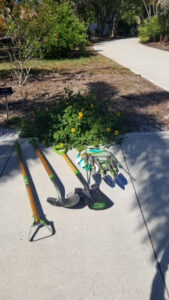 Calusa Garden Club is proud to announce that it received a grant from The Ames Companies consisting
of $250 of tools produced by Ames Tools. Ames Tools manufactures and markets gardening tools and
equipment through retail outlets such as Home Depot. The company is a corporate sponsor of National
Garden Clubs, Inc., the national organization with which Calusa Garden Club of Marco Island is affiliated.
Ames Tools manufactures and markets gardening tools and equipment through retail outlets such as
Home Depot. In addition, the Club raised over $1,000 in a fundraising drive that will be used to
purchase plants, mulch and supplies needed to totally rework the garden.
Calusa Garden Club of Marco Island established the Butterfly Garden located in Calusa Park on
Winterberry Drive in co-operation with the City of Marco Island in 2009. The Butterfly Garden was
destroyed by the floodwaters that inundated Marco Island during Hurricane Ian. When Susan LaGrotta,
chairman of the garden club's Butterfly Garden Committee, realized the extent of the damage to the
garden, she began a search for funds and other aid to assist the club in a total renovation and replanting
of the garden.
LaGrotta spearheaded the fundraising drive for the garden and also prepared the application for the
Ames Tools grant. In the grant application, LaGrotta described the work the Club needs to do in order to
amend the soil ruined by salt water, to remove dead plants, to prune surviving plants, and to purchase
and plant new pollinator plants for the garden. Her application was successful, and the new gardening
tools arrived in May of this year. The photos show Susan LaGrotta holding a green garden hose and the
other garden tools that the club received from Ames Tools, other garden club members holding the
tools, and the tools themselves.
Normally the summer rainy season would be a great time to replant the Butterfly Garden. However,
there was very little rain in May, June and July, and because the temperatures were extremely high, the
planting of new plants was not advisable. Instead, the Butterfly Garden committee members have
directed their efforts to researching additional pollinator plants suited to our subtropical climate,
choosing both nectar plants to nourish the butterflies and host plants to nourish the caterpillars. They
also have been working on a redesign of the Butterfly Garden planting areas.
The Calusa Park Butterfly Garden was established in 2009 as a joint project of the Marco Island
Beautification Advisory Committee and Calusa Garden Club of Marco Island. Club members work in the
garden on Saturday mornings once a month, and more often if needed. The garden club members give
tours of the Butterfly Garden upon request from groups or organizations.