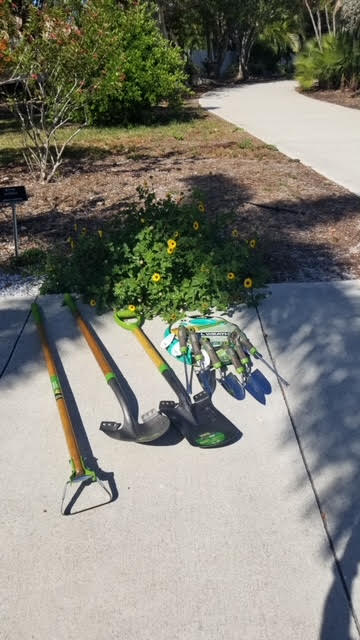 The Butterfly Garden Committee is continuing to prep the Calusa Park Butterfly Garden site,  after Ian's visit last year damaged the habitat we provided for our local butterfly population.
Calusa Garden Club members are hard at work. Member Rhonda McGloodt tends to the newly sprouted Milkweed area of the garden, continues seeding this area and watering. Milkweed is the host plant for Monarch butterflies. Take a look for this brightly colored butterfly laying their eggs on the undersides of the leaves as well as their caterpillars devouring the same leaves before chrysalis, then the process starting over, once the butterfly emerges.
Host vines are in place thanks to Rhonda, Purple Passion Vine (Passiflora incarnata, host to gulf fritillary and zebra longwing, the Florida State Butterfly)Dutchman's Pipevine ( Aristolochia littoralis, host to Gold Rim (Polydamas) Swallowtail) as well as a Coral Honeysuckle (providing nectar for butterflies and hummingbirds)
Behind the scenes members are researching the best Butterfly host and nectar plants as well as vendors that don't use any pesticides. Pesticides are poison to butterflies, the garden will do well without the use of any toxic materials. 
Besides our members prepping, weeding, planting, propagating, and watering, member Nanette Baumgartner built a potting work table and  Ames Tools granted our committee  brand new garden tools for this project ! 
Look for us in the garden, typically last Saturday of the month at 9 am. ( address: 1441 Winterberry Drive. across from the ballfield parking lot)Once the planting starts we will be in the garden more frequently. 
Our committee is looking forward to once again creating a habitat for our local butterflies and providing community outreach to the public.